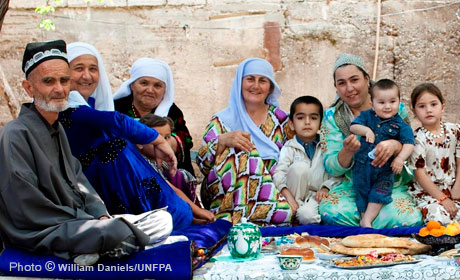 UNFPA Tajikistan
Since 1995, UNFPA has supported Tajikistan in strengthening the capacities of health professionals to provide reproductive and sexual health care, including to youth and other vulnerable groups, as well as assisting with the regular supply of contraceptives and other basic commodities. Programmes also develop national skills to collect, analyse and use reliable demographic information to plan and monitor development interventions, and respond to gender-based violence.
Population
Population aged 0-14

Population aged 15-64

Population aged 65+
Maternal and newborn health
Births attended by skilled health personnel
Sexual and reproductive health
CPR any method

Unmet need
Education
Fertility
Total fertility rate, per woman, 2010-2015
Life expectancy
Life expectancy at birth (years), 2010-2015
Harmful Practices
Child marriage by age 18, per cent, 2006-2017
Programme activities
All resources

Core

Non - core
Dashboards available for Tajikistan
News
DUSHANBE, Tajikistan — Although fewer than
DUSHANBE, Takjistan —Sitora, 25, has told no one of her condition.
Pages