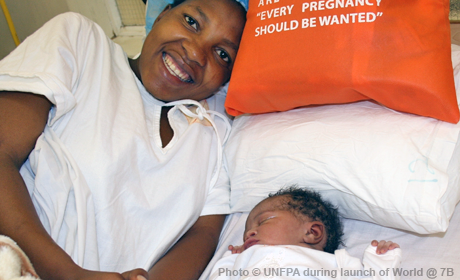 UNFPA Eswatini
With the highest HIV prevalence in the world, Eswatini has experienced a dramatic decline in life expectancy. Maternal, child and infant mortality rates are also high. UNFPA support helps national institutions combat these trends by extending high-quality, integrated sexual and reproductive health services, including for HIV prevention, family planning and maternal health. Programmes also support the integration of population data into development planning, laws and policies to achieve gender equality, and to prevent and respond to gender-based violence.
Population
Population aged 0-14

Population aged 15-64

Population aged 65+
Maternal and newborn health
Births attended by skilled health personnel
Sexual and reproductive health
CPR any method

Unmet need
Education
Fertility
Total fertility rate, per woman, 2010-2015
Life expectancy
Life expectancy at birth (years), 2010-2015
Programme activities
All resources

Core

Non - core
Dashboards available for Eswatini
News
SHISELWENI, Swaziland – More than one in five adults in Swaziland are HIV-positive, according to th
SHISELWENI, Swaziland – "We have high youth unemployment and high teenage pregnancy," Mr.
Pages