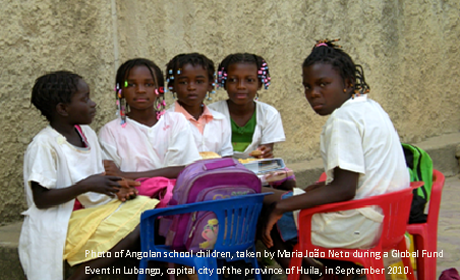 UNFPA Angola
After enduring 40 years of almost continuous war, Angola was in disarray when peace accords were finally signed in 2002. Since then, the country's economy has grown rapidly, but inequities persist, and nearly 40 per cent of Angolans live in poverty and maternal mortality and teenage pregnancy remain high. Since 1978, UNFPA has been working to: increase access to reproductive health (including family planning and treatment of obstetric fistula) and HIV prevention services; ensure sustainable population growth and development (through improved availability of reliable information); and increase gender equality.
Population
Population aged 0-14

Population aged 15-64

Population aged 65+
Maternal and newborn health
Births attended by skilled health personnel
Sexual and reproductive health
CPR any method

Unmet need
Education
Fertility
Total fertility rate, per woman, 2010-2015
Life expectancy
Life expectancy at birth (years), 2010-2015
Programme activities
All resources

Core

Non - core
Dashboards available for Angola
News
LUNDA NORTE PROVINCE, Angola – The March 2017 outbreak of violence in the Kasai region of the Democ
LOVUA, Angola – "There was a lot of violence.
LUNDA NORTE, Angola – Towards the end of Yvonne Mboi's pregnancy, she recalled, "I realized I was t
Pages