DUSHANBE, Takjistan —Sitora, 25, has told no one of her condition. She is a healthcare worker who acquired the infection in her twenties – possibly from a needle stick injury. Her father knows that she is working with an NGO dedicated to working with those affected. But when she asked him what he thought about those living with HIV, his answer was unequivocal.
"We should burn them all," he said.
"So you see, I can't tell anyone," she says sadly. "The only people who know are the ones I work with."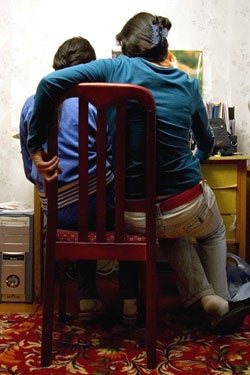 Gulnora, 34, tells a similar story. She acquired HIV from her former partner, a migrant worker. She is a slim woman, fine boned with delicate features and large expressive eyes. She went for voluntary counselling and testing (VCT) as part of a workplace initiative. Somehow her results got out and her co-workers on the Tajik Railway began to harass and abuse her. She quit, and today she too works at UNFPA-supported Guli Surkh, a Dushanbe-based NGO that advocates on behalf of those living with HIV and lobbies for access to treatment and greater awareness of the issue – particularly among youth.
Silence in the face of rejection
Gulnora does her work behind the scenes - quietly, in a way that will neither draw attention to herself or the virus that has altered her life forever. "If my family knew they would reject me," she says. "I can tell no one. I know what will happen if I do."
She lowers her head and a large tear rolls down her cheek. "When I first learned of my status, I thought the entire city was against me. I was really shocked. I became very depressed and sometimes I still feel so depressed.
" If my family knew they would reject me. I can tell no one. I know what will happen if I do. "

--Gulnora
 "When you see people dying before your eyes and they are on ARV (anti-retroviral therapy) and they are still dying, you think, 'I cannot survive this and no one cares.' My family does not know and I am afraid to tell them."
Both women are sitting in the office of Director Sevara Rakhimovna in the headquarters of the NGO's Dushanbe headquarters.
Assistance, training and support for those living with HIV
Outside, twilight is falling and it is starting to rain. The streetlights are beginning to wink on one by one, illumining the bright autumnal leaves that blaze from the surface of the wet pavements in a riot of gold and brown. Winter is coming to this small, land-locked country of 7 million. Inside, the office is suffused with a greenish light thrown out by 40-watt fluorescent bulbs. Gulnora trembles—but only slightly. It is hard to tell whether it is from a draught from the window or her own sad thoughts.
Rakhimovna is a dynamic woman but exhaustion shows in her square face. Guli Surkh, which means Red Flower  in Tajik, was founded in March 2004. Its mandate is to provide training, assistance and support for those living with HIV.
The country is seriously lagging when it comes to the provision of treatment, care and support for those living with HIV, as called for in international agreements. Indeed it was only fairly recently that HIV even became a topic of discussion. And it was not until 2004, that the government initiated voluntary counselling and testing.
Although Tajikistan is still considered a low-prevalence country, several indicators – a large migrant population, poverty, drugs and human trafficking – point to the fact that the country could be poised on the brink of a generalized epidemic.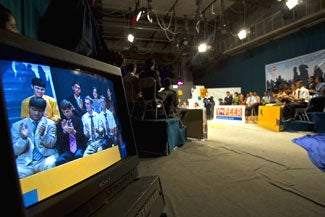 Low prevalence but increasing risk
According to the government, only 872 people are registered as living with HIV in Tajikistan. However the real numbers are likely to be far higher, considering the lack of accurate census data, the difficulty of reaching those living in more remote communities from which labour migrants to the Russian Federation tend to come, and the absence of reliable information on the number of women trafficked in and out of the country. Ms. Rakhimovna scoffs at the government's figure.
"This is not a reliable statistic," she says. "HIV is occurring in the countryside where more than 90 per cent of the men travel back and forth from Russia. We meet villagers who are clearly ill but don't know who to turn to.  Even their neighbours know why these women are getting so sick, but no one can talk about it."
Although Ms. Rakhimovna believes that the highest infection rates are among communities adjacent to the Afghan border where most injecting drug users live, she predicts that the next three or four years could see an upsurge in heterosexual transmission, as the full impact of labour migration quite literally hits home.
Learning curve
 UNAIDS statistics would seem to confirm her views. As of 2006, 4, 900 Tajiks, or between 0.1 per cent or 1.7 per cent of the population, were living with HIV, according to UNAIDS estimates.  Like Ms. Rakhimovna, UNAIDS is concerned that HIV is spreading rapidly among the general population. 
 One of the keys to preventing the epidemic from taking hold in a country that, by all standards, is among one of the most impoverished in the entire region, is to raise awareness among youth and other vulnerable populations. To that end, UNFPA, the United Nations Populations Fund, is supporting a unique set of media and training interventions designed to raise awareness, reduce stigma and provide adolescents with the tools to prevent HIV and be compassionate to those who are unable to do so.  
 Vulnerable youth
It is early morning at Dushanbe's school number one. Sunlight is streaming through the dusty windows and the hallways are filled with a polyphony of young voices on their way to class. Girls and boys both are garbed in white and black, with the occasional touch of rebellious colour winking from a hair barrette or glinting from a piece of costume jewelry.
 Once they are settled in their seats, instructor Ferozia Nabieva, an obstetrician-gynaecologist, introduces the class and then launches into a lively discussion about reproductive health, contraception and HIV. Mindful of the strangers in their midst, the students are shy at first. But one by one the hands reach tentatively upward to an accompaniment of barely stifled giggles.
This grade nine class is mixed, but others are segregated by gender. Privacy and comfort are critical when it comes to reaching out to young people, says Dr. Nabieva. "In these classes they can share their concerns and get answers. Anywhere else they might experience shame, which is why we work with trainers who are also young and whom they trust."
Some of the younger male trainers work primarily with boys and young men. Should students require more in-depth counselling, they are referred to the Dushanbe Reproductive Health Centre where a youth-friendly clinic deals solely with their young constituents.
UNFPA is negotiating with Ministry of Education to bring sexual and reproductive health programming into the classroom. The reasons behind this are not only moral, but also demographic. By 2015, 50 per cent more young people will be flooding into the country's schools. Few resources, growing inequality and a dearth of opportunities could lead to future instability – not to mention the threat of a burgeoning HIV epidemic. Informing young people of their reproductive health and rights – including the right to contraceptives -- could diffuse the potential for a major HIV epidemic and also reduce population pressure on an increasingly resource-straitened nation.
Reaching out through radio and TV
In-school programmes can go only so far given the remote locations of so many Tajik communities and the fact that so many lack access to electricity, school and services during the long, snowy winter months.. To that end, UNFPA is piloting a series of radio and TV shows that specifically focus on youth, reproductive health and HIV.
Boimorod Bobodjanov is the 31-year-old UNFPA youth projects manager. Tall, loose- limbed and elegantly dressed, he is the very embodiment of the 'new' Tajikistan --urbane, well educated, funny and relaxed.
It was under his auspices that the organization began a series of TV pilots specifically for and about youth. After much cajoling, financial brinkmanship and concerted wooing aimed at the right quarters, UNFPA was able to secure  four slots per month for a talk show about sexual and reproductive health that involves youth.
What normally would cost $10,000 to produce cost UNFPA only $900 thanks, in no small part, to a relentless campaign of 'moral-suasion' on the part of Bobodjanov and partners. So successful is the show -- dubbed Safina -- that it will soon be on the coveted seven o'clock Friday evening time slot.
The end result? A slick one-hour talk show that challenges traditional Tajik ways of perceiving issues such as gender rights and reproductive health, while maintaining respect for customs such as respect for elders and concern for the community. In order to get the show rolling, Mr. Bobodjanov had to act as fundraiser, producer, art director and writer. Although the government was initially opposed to the plan, the show has been airing for an entire year and the ratings are favourable. Today, the MTV-supported show is being branded under the umbrella of Y-PEER, a network of youth peer educators pioneered by UNFPA in 2000.
The hostess, 26-year-old Sitora Ashurova, is a former Y-PEER counsellor, who recalls with pleasure the very first time a person living with HIV spoke publicly about his status on national TV. "It was pretty special," she says. "It was the first time the average Tajik could see that a person living with HIV could be anyone."
Although programmers still have to skirt around specific terms such as condoms (they have to refer to condoms as 'protection'), Mr. Bobodjanov looks forward to the day when discussions will become even more open and  that young people all over the country will know how to avoid HIV, where to get treatment if they do acquire it and that those with  the virus should be treated with the decency and respect that they would accord any other human being.
Because 42 per cent of young people surveyed say they receive most of their information about HIV from TV, Safina is a critical tool in the fight against not only the disease itself, but the stigma that surrounds it.
— Patricia Leidl