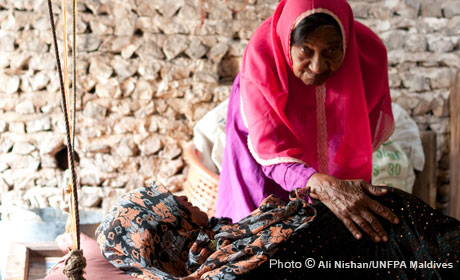 UNFPA Maldives
Despite a complex territory of 192 islands, the Maldives has achieved rapid development, with substantial declines in fertility and maternal mortality, and stronger systems to respond to gender-based violence. Offering support since 1976, and establishing its Country Office in 1994, UNFPA assists in delivering high-quality, equitable reproductive health services and information, and helps improve access for young people. Aid to use population data has increased capacities to account for population dynamics and improved targeting of public policies. UNFPA engages with parliamentarians, religious institutions, civil society and the media to promote gender equality.
Population
Population aged 0-14

Population aged 15-64

Population aged 65+
Maternal and newborn health
Births attended by skilled health personnel
Sexual and reproductive health
CPR any method

Unmet need
Education
Fertility
Total fertility rate, per woman, 2010-2015
Life expectancy
Life expectancy at birth (years), 2010-2015
Programme activities
All resources

Core

Non - core
Dashboards available for Maldives
News
MALE', Maldives – When Azlifa was 11 years old, something troubling happened to her friend.
MALE', MALDIVES – As the hammering, buzzing and whirring of construction drone on outside – the sou
Pages