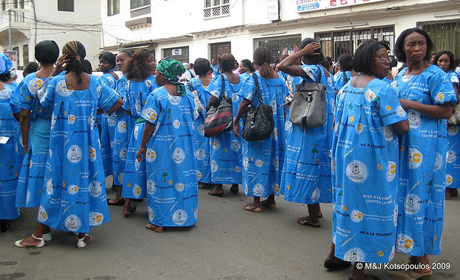 UNFPA Equatorial Guinea
Despite rapid economic growth from oil and gas revenues, 70 per cent of Equatorial Guinea's population still lives in poverty. Maternal mortality remains high and more than a third of girls aged 15 to 19 are already mothers. Active in the country since 1980, UNFPA helps strengthen national capacities to provide emergency obstetric and newborn care, as well as essential sexual and reproductive health services for marginalized adolescents and young people. UNFPA works with national institutions to amend laws to protect women's rights, and to produce high quality demographic data on population dynamics, youth, gender equality, and sexual- and reproductive health.
Population
Population aged 0-14

Population aged 15-64

Population aged 65+
Maternal and newborn health
Births attended by skilled health personnel
Sexual and reproductive health
CPR any method

Unmet need
Education
Fertility
Total fertility rate, per woman, 2010-2015
Life expectancy
Life expectancy at birth (years), 2010-2015
Programme activities
All resources

Core

Non - core
Dashboards available for Equatorial Guinea
News
MALABO, Equatorial Guinea—UNFPA Executive Director Dr.