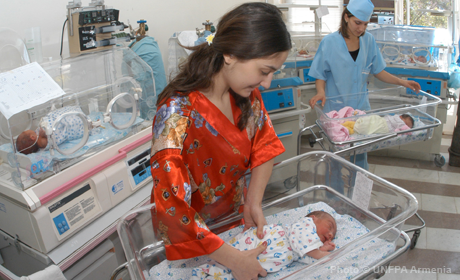 UNFPA Armenia
Armenia faces multiple challenges, from high unemployment and a rapidly ageing population to a sex ratio skewed in favour of boys. Contraceptive use and maternal mortality rates have improved and the number of abortions has declined. Since 1999, UNFPA has supported new policies and services to broaden access to quality reproductive health care, particularly for vulnerable groups. It has helped develop the skills of health-care providers, and cultivate new capabilities for preventing HIV. Efforts to advance gender equality incorporate data collection and analysis to guide actions towards the reduction of gender-based violence.
Population
Population aged 0-14

Population aged 15-64

Population aged 65+
Maternal and newborn health
Births attended by skilled health personnel
Sexual and reproductive health
CPR any method

Unmet need
Education
Fertility
Total fertility rate, per woman, 2010-2015
Life expectancy
Life expectancy at birth (years), 2010-2015
Programme activities
All resources

Core

Non - core
Dashboards available for Armenia
News
YEREVAN, Armenia — Seven years ago Milena separated from her husband.
YEREVAN, Armenia — Since its debut in Armenia in 2007, the 'Theatre for Changes' has dealt with critical soci