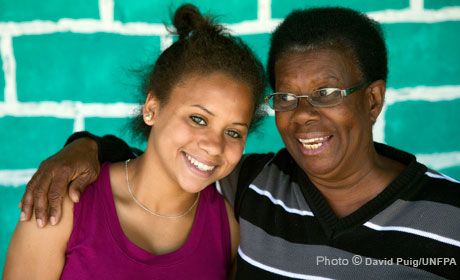 UNFPA Uruguay
Despite the fact that Uruguay has seen a significant decline in the poverty rate since 2005, deep social, territorial, generational ,and ethnic inequalities persist. UNFPA supports the development of comprehensive sexual and reproductive health services across the country by generating evidence, promoting capacity development, and strengthening public policies and civil society. Efforts are also geared towards addressing the needs of adolescents and youth. Data is also being generated to support public policy development in the areas of population and development, gender equality, and gender-based violence.
Population
Population aged 0-14

Population aged 15-64

Population aged 65+
Maternal and newborn health
Births attended by skilled health personnel
Sexual and reproductive health
CPR any method

Unmet need
Education
Fertility
Total fertility rate, per woman, 2010-2015
Life expectancy
Life expectancy at birth (years), 2010-2015
Programme activities
All resources

Core

Non - core
Dashboards available for Uruguay
News
Although abortion has been illegal in Uruguay since 1938, pregnancies continue to be terminated.