United Nations Population Award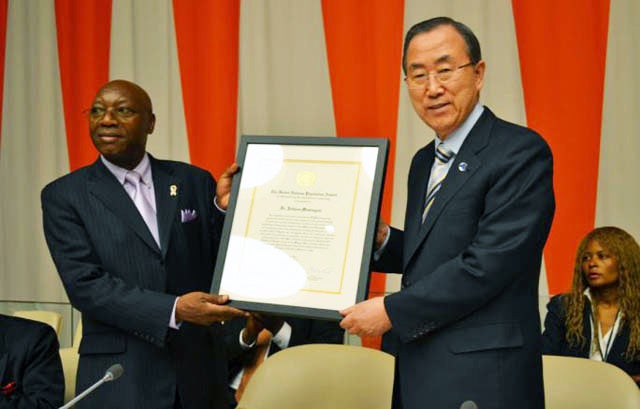 United Nations Secretary-General Ban Ki-moon with the 2013 UN Population Award laureate. See below for updates on the UN Population Award.
Each year, the Committee for the United Nations Population Award honours an individual and/or institution in recognition of outstanding contributions to population and reproductive health questions and to their solutions. The Award was established by the General Assembly in 1981, in resolution 36/201, and was first presented in 1983. It consists of a gold medal, a diploma and a monetary prize.
The Committee for the United Nations Population Award is comprised of 10 UN Member States, with United Nations Secretary-General and UNFPA Executive Director serving as ex-officio members. Nominations for the award are accepted through 31 December of each year.
Press releases
Hans Rosling, a Swedish doctor and statistician, as well as the Association of Traditional Chiefs of Niger (Association
Related News
Women's health and rights took centre stage at yesterday's United Nations Population Award ceremony, held at...
The United Nations honoured Thoraya Ahmed Obaid and the African Population and Health Research Centre (APHRC),...
UNITED NATIONS, New York – On 12 June, UNFPA celebrated the winners of the 2014 United Nations Population Award: Father...
Pages