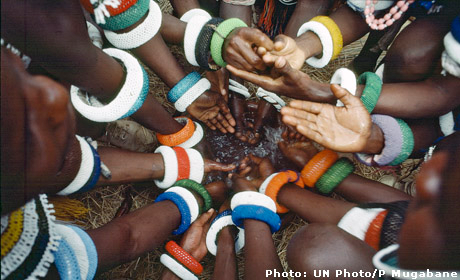 UNFPA South Africa
UNFPA, the United Nations Population Fund, expands the possibilities for women and young people to lead healthy and productive lives.
UNFPA is the lead United Nations agency for delivering a world where every pregnancy is wanted,every childbirth is safe and every young person's potential is fulfilled.
We are making great progress on the African continent. Since 1990, the rate of maternal deaths in Africa has almost halved, and the CARMMA initiative is helping to speed up progress. More women and men are better able to plan and space their children. Young people are more empowered in sexual and reproductive health and reproductive rights.
Population
Population aged 0-14

Population aged 15-64

Population aged 65+
Maternal and newborn health
Births attended by skilled health personnel
Sexual and reproductive health
CPR any method

Unmet need
Education
Fertility
Total fertility rate, per woman, 2010-2015
Life expectancy
Life expectancy at birth (years), 2010-2015
Programme activities
All resources

Core

Non - core
Dashboards available for South Africa
News
JOHANNESBURG, South Africa/NAROK, Kenya – "I felt embarrassed to be a girl and felt like it was a p
DURBAN, South Africa – Zandile Simelane was just a teenager when her life was turned upside-down.
Pages