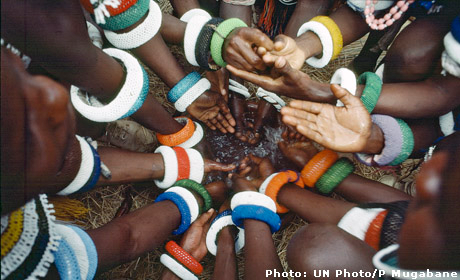 UNFPA South Africa
Crée en 1969,  le Fonds des Nations Unies pour la population (UNFPA), est un organisme de développement international qui œuvre en faveur du droit à la santé et de l'égalité des chances pour chaque femme, homme et enfant. L'UNFPA offre son appui aux pays pour utiliser les données de population dans la formulation des politiques et des programmes visant à réduire la pauvreté et pour faire en sorte que toutes les grossesses soient désirées, que tous les accouchements soient sans danger, que tous les jeunes soient protégés du VIH et du sida et que toutes les filles et toutes les femmes soient traitées avec dignité et respect. 
Population
Population aged 0-14

Population aged 15-64

Population aged 65+
Maternal and newborn health
Births attended by skilled health personnel
Sexual and reproductive health
CPR any method

Unmet need
Education
Fertility
Total fertility rate, per woman, 2010-2015
Life expectancy
Life expectancy at birth (years), 2010-2015
Programme activities
All resources

Core

Non - core
Dashboards available for South Africa
News
JOHANNESBURG, South Africa/NAROK, Kenya – "I felt embarrassed to be a girl and felt like it was a p
DURBAN, South Africa – Zandile Simelane was just a teenager when her life was turned upside-down.
Pages