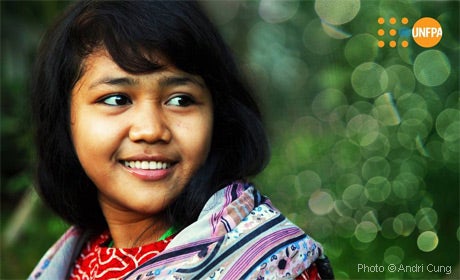 UNFPA Indonesia
Although pockets of poverty persist across this large island nation, Indonesia, with a population of over 237 million, has achieved middle income status thanks to sound development policies. UNFPA supports the Government in achieving its global commitments to improve maternal health and achieve universal access to reproductive health, as well as national priorities related to population dynamics, sexual reproductive health and rights, family planning and gender equality, and the rights of adolescents and youth.
Population
Population aged 0-14

Population aged 15-64

Population aged 65+
Maternal and newborn health
Births attended by skilled health personnel
Sexual and reproductive health
CPR any method

Unmet need
Education
Fertility
Total fertility rate, per woman, 2010-2015
Life expectancy
Life expectancy at birth (years), 2010-2015
Programme activities
All resources

Core

Non - core
Dashboards available for Indonesia
News
DONGGALA, Indonesia – "I am so scared. I can't even describe it," Ibu Fariati, 27, told UNFPA.
Pages