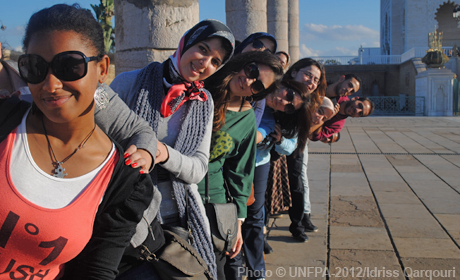 UNFPA Morocco
A middle-income country, Morocco has increased access to contraceptives and reduced maternal and infant mortality, but disparities remain. In particular, women's empowerment remains a challenge despite progressive legislation. Active in Morocco since 1975, UNFPA supports the continued improvements in women's reproductive health through better emergency obstetric care and screening services for cervical cancer, a leading cause of death. It also advocates for youth-specific policies, services and information, and helps to improve the availability and analysis of data on population dynamics, sexual and reproductive health, and gender equality.
Population
Population aged 0-14

Population aged 15-64

Population aged 65+
Maternal and newborn health
Births attended by skilled health personnel
Sexual and reproductive health
CPR any method

Unmet need
Education
Fertility
Total fertility rate, per woman, 2010-2015
Life expectancy
Life expectancy at birth (years), 2010-2015
Programme activities
All resources

Core

Non - core
Dashboards available for Morocco
News
FEZ, Morocco – "I was forced to leave home with my baby in my hands," Khadija, 42, told UNFPA.
RABAT, Morocco – "I had always felt lonely.
Pages