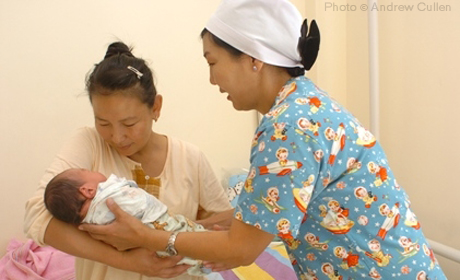 UNFPA Mongolia
Welcome to UNFPA in Mongolia. UNFPA, the United Nations Population Fund , is the UN agency delivering a world where every pregnancy is wanted, every childbirth is safe and every young person's potential is fulfilled. In Mongolia, UNFPA supports the government in the use of population data for policies and programmes to reduce poverty and to ensure that every birth is safe and wanted.
Population
Population aged 0-14

Population aged 15-64

Population aged 65+
Maternal and newborn health
Births attended by skilled health personnel
Sexual and reproductive health
CPR any method

Unmet need
Education
Fertility
Total fertility rate, per woman, 2010-2015
Life expectancy
Life expectancy at birth (years), 2010-2015
Programme activities
All resources

Core

Non - core
Dashboards available for Mongolia
News
ULAANBAATAR, Mongolia – Not long ago, 22-year-old Enkhtsetseg would have had to travel for nearly t
ZAVKHAN PROVINCE, Mongolia – "Y-Peer saved my life.
Pages