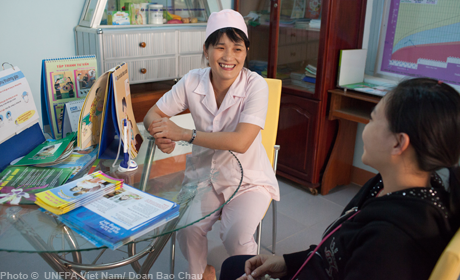 UNFPA Vietnam
Viet Nam has achieved rapid economic growth and reduced poverty, but profound disparities remain among different groups and regions. Maternal mortality is much higher in some areas and among ethnic minorities. UNFPA's engagement dates back to 1977. Today, it focuses on strengthening the health system to provide universal access to sexual and reproductive health care for youth, ethnic minorities, and domestic violence survivors. It highlights emerging issues such as ageing, advocates for comprehensive social protection, and supports rectifying a sex ratio imbalance skewed towards boys.
Population
Population aged 0-14

Population aged 15-64

Population aged 65+
Maternal and newborn health
Births attended by skilled health personnel
Sexual and reproductive health
CPR any method

Unmet need
Education
Fertility
Total fertility rate, per woman, 2010-2015
Life expectancy
Life expectancy at birth (years), 2010-2015
Programme activities
All resources

Core

Non - core
Dashboards available for Viet Nam
News
An estimated 9.3 per cent of all female sex workers in Viet Nam will be living with HIV in 2012.
Strengthening business practices, removing bottlenecks and promoting further harmonization of operations were the fo
Pages