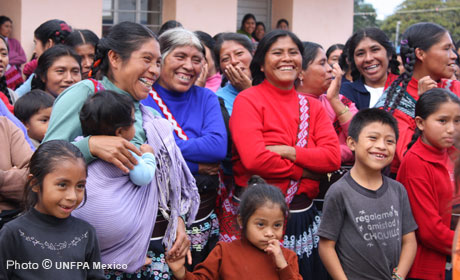 UNFPA Mexico
With a total population of more than 118 million, Mexico is now a high-middle income country with an advanced demographic transition, where birth and death rates are low. It faces wide economic and social disparities, however, and more than half of its people live in poverty. UNFPA has been active in Mexico since 1972. Current programmes address key issues such as the incorporation of population dynamics in local development planning and programmes; youth-oriented policies and programmes; the sexual and reproductive health of indigenous people, migrants, and youth; the prevention of gender-based violence; and comprehensive sexuality education.
Population
Population aged 0-14

Population aged 15-64

Population aged 65+
Maternal and newborn health
Births attended by skilled health personnel
Sexual and reproductive health
CPR any method

Unmet need
Education
Fertility
Total fertility rate, per woman, 2010-2015
Life expectancy
Life expectancy at birth (years), 2010-2015
Programme activities
All resources

Core

Non - core
Dashboards available for Mexico
News
MONTERREY, Mexico - Thoraya A.
MEXICO CITY — It's a long way between the g
Pages