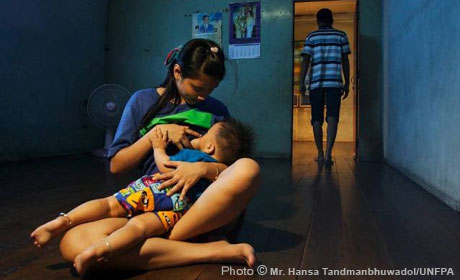 UNFPA Thailand
A middle-income country, Thailand has faced various challenges relating to population changes brought about by socioeconomic development. A low birth rate is straining human resource for future development, while rapid urbanization is shifting family structures. Located at the centre of Southeast Asia, Thailand has welcomed millions of foreign migrants each year. UNFPA programmes help to address these challenges. With a high number of adolescent pregnancies, special attention is given to the needs of young people.
Population
Population aged 0-14

Population aged 15-64

Population aged 65+
Maternal and newborn health
Births attended by skilled health personnel
Sexual and reproductive health
CPR any method

Unmet need
Education
Fertility
Total fertility rate, per woman, 2010-2015
Life expectancy
Life expectancy at birth (years), 2010-2015
Harmful Practices
Child marriage by age 18, per cent, 2006-2017
Programme activities
All resources

Core

Non - core
Dashboards available for Thailand
News
CHIANG MAI, Thailand - The catastrophe predicted to result from the rapid ageing of Asian populations is far
MAE SOT, Thailand - Visiting a sexual and reproductive health clinic may seem ordinary for many women.
Pages