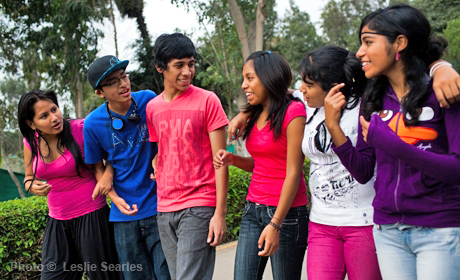 UNFPA Peru
Peru has achieved economic growth and relative political stability, but still needs to expedite poverty reduction, and close wide gaps among regions and population groups. Active in Peru since 1972, UNFPA supports regions that are lagging behind to improve the delivery of comprehensive reproductive health services, including to young people. The programmes help decision makers develop capacities to use data disaggregated by gender, ethnicity and other parameters in enacting regional population plans, as well as to implement emergency preparedness and response strategies. UNFPA also advocates for public policies to advance gender equality.
Population
Population aged 0-14

Population aged 15-64

Population aged 65+
Maternal and newborn health
Births attended by skilled health personnel
Sexual and reproductive health
CPR any method

Unmet need
Education
Fertility
Total fertility rate, per woman, 2010-2015
Life expectancy
Life expectancy at birth (years), 2010-2015
Programme activities
All resources

Core

Non - core
Dashboards available for Peru
News
LAMBAYEQUE, PERU – When floodwaters engulfed the ĺllimo district on 14 March 2017, Lily Silva Arico
LIMA, Peru – "I became pregnant at 14 years old," Angie told UNFPA.
Pages