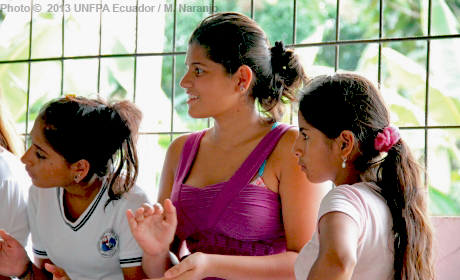 UNFPA Ecuador
A middle-income country, Ecuador is facing several shortfalls in reducing maternal and neonatal mortality, and preventing adolescent pregnancies. As a result, it is committed to closing these gaps in specific regions and among vulnerable groups. Active in Ecuador for more than 30 years, UNFPA advocates for universal access to reproductive health services, and helps mobilize resources and political will accordingly. Through partnerships with national ministries, local governments and civil society, it fosters effective coordination for the national strategy on family planning and preventing adolescent pregnancy.
Population
Population aged 0-14

Population aged 15-64

Population aged 65+
Maternal and newborn health
Births attended by skilled health personnel
Sexual and reproductive health
CPR any method

Unmet need
Education
Fertility
Total fertility rate, per woman, 2010-2015
Life expectancy
Life expectancy at birth (years), 2010-2015
Programme activities
All resources

Core

Non - core
Dashboards available for Ecuador
News
Although all individuals have the right to reproductive health, exercising this right can be pro
Indigenous people are disproportionately among the poorest of the poor.
Pages