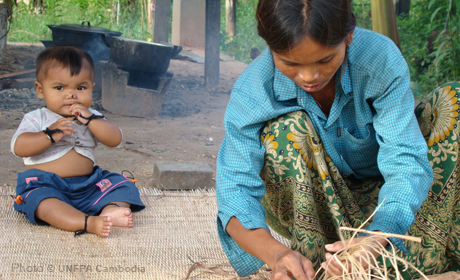 UNFPA Cambodia
Since 1994, following a 30-year period of war and internal conflict, Cambodia has rebuilt itself. Although it remains one of Asia's least developed (and youngest) countries, Cambodia's progress in reducing poverty and improving health has been remarkable. Even with 80 per cent of Cambodians living in rural areas, the country has managed to dramatically reduce maternal and infant mortality. Continued investments in the health, education and opportunities of the large population of young people could help the country realize a substantial demographic dividend.
Population
Population aged 0-14

Population aged 15-64

Population aged 65+
Maternal and newborn health
Births attended by skilled health personnel
Sexual and reproductive health
CPR any method

Unmet need
Education
Fertility
Total fertility rate, per woman, 2010-2015
Life expectancy
Life expectancy at birth (years), 2010-2015
Programme activities
All resources

Core

Non - core
Dashboards available for Cambodia
News
PHNOM PENH, Cambodia – Ry Chan, a gentle father in his mid-30s, was once an abuser.
KRATIE PROVINCE, Cambodia – When pregnant women need emergency care in Cambodia's rural Kratie Prov
Pages