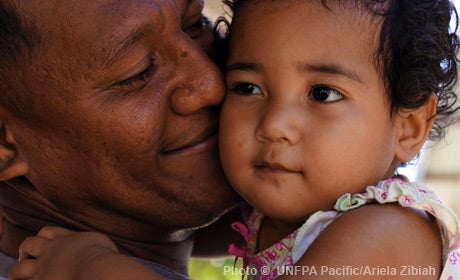 UNFPA Pacific-SRO
UNFPA's Pacific Sub-Regional Office, located in Fiji, assists 14 countries and territories: the Cook Islands, the Federated States of Micronesia, Fiji, Kiribati, the Marshall Islands, Nauru, Niue, Palau, Samoa, Solomon Islands, Tokelau, Tonga, Tuvalu and Vanuatu. The office additionally provides technical assistance to Papua New Guinea. UNFPA works to extend family planning and emergency obstetric care, advocates for stronger protection policies, mobilizes communities against violence, and supports services for survivors. UNFPA also supports efforts to improve adolescent sexual and reproductive health.
Population
Population aged 0-14

Population aged 15-64

Population aged 65+
Maternal and newborn health
Births attended by skilled health personnel
Sexual and reproductive health
CPR any method

Unmet need
Education
Fertility
Total fertility rate, per woman, 2010-2015
Life expectancy
Life expectancy at birth (years), 2010-2015
Programme activities
All resources

Core

Non - core
Dashboards available for Pacific-SRO
News
DEBAYTILATGIN, Ethiopia – Hulunayehu Belay's family ekes out a living by farming a small plot of la
HERAT, Afghanistan – By midnight, Khurshid, 35, was in serious trouble.
Pages