Last Mile Assurance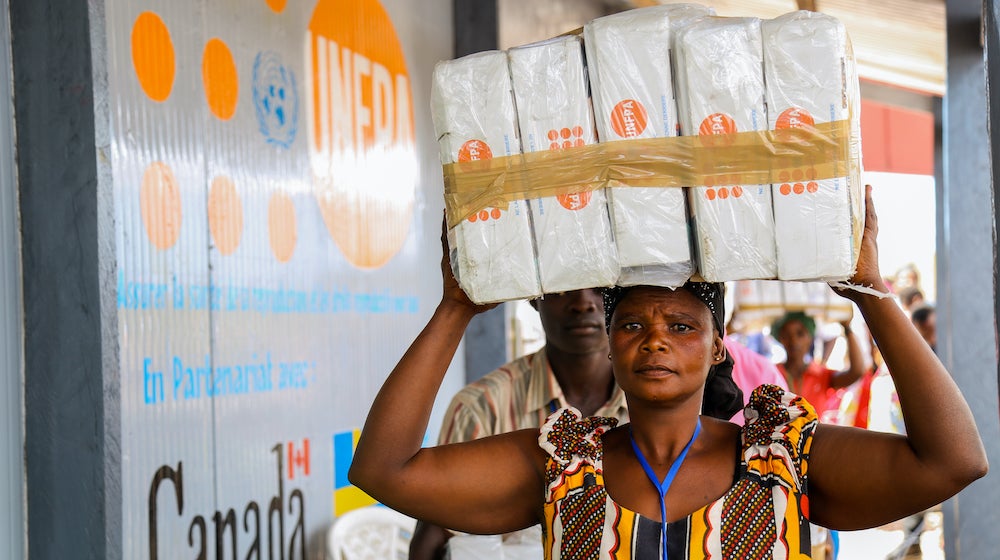 Ensuring that supplies reach the last mile
During 2019, UNFPA delivered programme supplies worth over USD 175 million in more than 114 countries. Among these were male and female condoms, oral and injectable contraceptives, intrauterine devices (IUDs), maternal health and life-saving supplies, medical equipment, and reproductive health and dignity kits.  
In order for UNFPA to achieve its transformative goals of eliminating the unmet need for family planning and ending preventable maternal deaths, it is vital to ensure that these supplies reach the women and girls UNFPA serves on time. To that purpose, in 2018 UNFPA launched a corporate-wide initiative called the "Last Mile Assurance (LMA) process." 
The ultimate goal of the LMA process is to provide reliable evidence of whether or not UNFPA programme supplies are adequately managed and safeguarded across all levels of the supply chain, minimizing waste and fraud, and timely and effectively reaching the "last mile". This means, for example, the service delivery points where women and girls can access sexual and reproductive health supplies. 
The LMA process aims to monitor and strengthen the supply chain used to safeguard and distribute these essential reproductive health supplies, through a multifaceted approach that allows UNFPA to: 
Raise greater visibility of the adequate safeguarding, management, and use for intended purposes of family planning, maternal health, and other programme supplies UNFPA provides.
Help UNFPA partners to better manage the programme supplies entrusted to them, by identifying supply chain capacity gaps, preventing fraud, and minimizing waste and losses.
Enforce accountability for the safeguarding, management, and use of the supplies by UNFPA partners. 
Holistically quantify actual fiduciary and delivery risk, to allow for improved programming and better discharge fiduciary duty to the donors that provide the financial resources used to procure the supplies.
How is this done? 
The LMA process ensures that supplies reach the last mile through the utilization of five different tools: supply chain maps, supply chain management capacity and risk assessments, programme supplies report, and finally, spot-checks and audits.
The LMA process builds on agreements signed with all implementing partners which clearly outline the terms and conditions under which the partners must manage, safeguard and distribute the supplies.
Development of supply chain maps is the first step in the LMA Process. The supply chain maps provide UNFPA with an initial level of visibility of key components of the partners' supply chain at the national, subnational, and local levels. As they are updated on an annual basis, UNFPA can easily see the physical flow of UNFPA programme supplies and corresponding information flows.
Supply chain management capacity assessments allow UNFPA to identify the  strengths and weaknesses of implementing partners in a large realm of relevant supply-chain management areas. These include among others, management, distribution approaches, logistical management information systems, storage conditions and controls, inventory accounting and control, as well as human resources, financial and infrastructure capacities. 
Supply chain management risk assessments are used to assess the risk inherent to the handling and distribution of the supplies through a model that reflects eight relevant risk factors across three key areas: external, delivery, and fiduciary risk. Each partner is assigned a "risk score", which objectively communicates the level of risk associated with the supplies reaching women and girls in a specific context, and determines the scope and frequency of subsequent LMA process activities.
Programme supplies reports, the fourth tool of the LMA process, provide detailed information on receipts and distributions of UNFPA programme supplies, waste and losses throughout the reporting period, and the stocks on-hand available for future distribution. This report allows UNFPA and partners to better support programmatic decisions, improve traceability of UNFPA deliveries to partners, and identify the extent of waste and losses and fraud instances. 
On-site verifications (referred to as spot-checks) and independent inventory audits are performed to quantify the actual level of fiduciary and delivery risk faced in the down-stream supply chain activities. They both involve the following:  tracing of deliveries and distributions down to the receiving facilities, review of inventory records, measurement of waste and losses, an inspection of facilities against a set of critical warehousing and inventory management standards, assessment of the effectiveness of inventory accounting controls, and the identification of "red flags." These are potentially indicative of instances of product diversion or other fraud schemes that could affect the supplies donated by UNFPA.
Together with the information gathered through the programme supplies reports, spot-checks and audits, UNFPA can better determine whether it is operating within its defined delivery and fiduciary risk appetite levels.