Catarina Furtado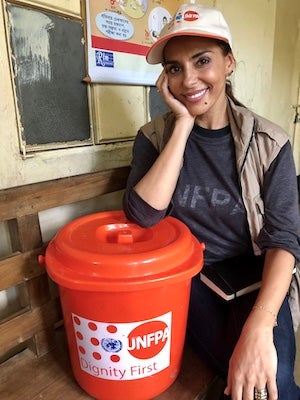 Catarina Furtado is one of Portugal's best-loved television personalities and celebrities.
She was appointed UNFPA Goodwill Ambassador in 2000, and in 2010 Secretary-General Ban Ki-moon appointed her as a Millennium Development Goal Champion.
As a filmmaker and UNFPA Goodwill Ambassador, she has traveled to Cape Verde, East Timor, Guinea-Bissau, Haiti, India, Indonesia, Mozambique, São Tomé and Príncipe and South Sudan. Since 2006, her television documentary series, Príncipes do Nada, has introduced audiences to issues related to maternal health, sexual and reproductive health, adolescent pregnancy, gender-based violence, human rights and development.
As a UNFPA Goodwill Ambassador, she has spoken about UNFPA's mandate to parliaments, universities, schools, young people and NGOs. She has also served as a moderator and host at multiple UN panel discussions and events.
In 2015, Ms Furtado published O Que Vejo e Não Esqueço (What I See and Do Not Forget), a book based on her experience as an activist and UNFPA Goodwill Ambassador.
It is hard to not be aware that we are an integral part of this world and that we have to do something. My job is to pass on this information.