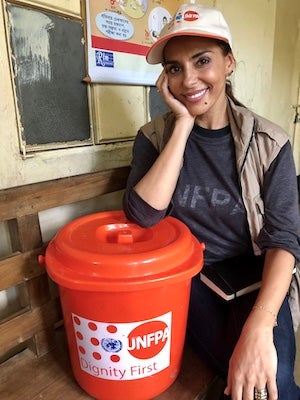 Catarina Furtado is one of Portugal's best-loved television personalities and celebrities.
She was appointed UNFPA Goodwill Ambassador in 2000, and in 2010 Secretary-General Ban Ki-moon appointed her as a Millennium Development Goal Champion.
As a filmmaker and UNFPA Goodwill Ambassador, she has traveled to Cape Verde, East Timor, Guinea-Bissau, Haiti, India, Indonesia, Mozambique, São Tomé and Príncipe and South Sudan. Since 2006, her television documentary series, Príncipes do Nada, has introduced audiences to issues related to maternal health, sexual and reproductive health, adolescent pregnancy, gender-based violence, human rights and development.
As a UNFPA Goodwill Ambassador, she has spoken about UNFPA's mandate to parliaments, universities, schools, young people and NGOs. She has also served as a moderator and host at multiple UN panel discussions and events.
In 2015, Ms Furtado published O Que Vejo e Não Esqueço (What I See and Do Not Forget), a book based on her experience as an activist and UNFPA Goodwill Ambassador.
It is hard to not be aware that we are an integral part of this world and that we have to do something. My job is to pass on this information.
Related content
News
"I will soon be the happy mother of a baby girl," Shaimaa Ahmed Ali told UNFPA in Egypt last summer. "I will definitely not have her circumcised. My husband and I agree on that. She will grow up to be a strong and healthy girl!" Ms.
News
PRAGUE, Czech Republic – When Maryana Borisova was a teenager in Bulgaria, she seemed destined to follow the same life path as other girls in her traditional Roma community: She would get married and have her first child long before turning 18, then drop out of school and, with f
News
DELHI - Catarina Furtado, popular Portuguese television personality, who also serves as a  Goodwill Ambassador  for UNFPA, was in India recently to report for the 13-episode TV series, Princes of Nothing, which is aired weekly on RTP, Portugal's main TV station.
Pages