Philippines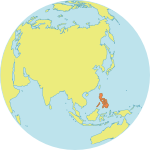 Maternal Mortality Ratio
121
Contraceptives prevalence rate
35
Population aged 10-24
28.7%
Youth secondary school enrollment
Related content
Winning the war in Afghanistan is not the same as keeping the peace. Here I would like to correct a common misconception, mostly produced by the media. Achieving peace and building communities and nations are considered in Islamic theology as the highest form of Jihad (Al-...
KABUL, AFGHANISTAN -- The small surgery in the Khair Khana 52-Beds Hospital smells of blood. (Actually it is more a clinic than a hospital.).
KABUL, AFGHANISTAN -- "When we asked for help in reconstructing an office for our ministry, UNFPA really acted quickly," says Dr. Sima Samar, Minster for Women's Affairs in Afghanistan's interim administration.
Pages