Philippines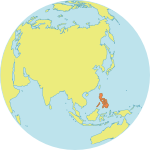 Maternal Mortality Ratio
121
Contraceptives prevalence rate
35
Population aged 10-24
28.7%
Youth secondary school enrollment
Related content
BRUSSELS - HIV/AIDS prevention efforts in the Arab region, Central America and the Caribbean will be strengthened under a three-year, 13-country initiative launched today by the United Nations Population Fund (UNFPA) and the Vienna, Austria-based OPEC Fund for...
Commissioned by the United Nations Development Fund for Women (UNIFEM), this colorful book examines the progress made in implementing the United Nations Security Council Resolution 1325 on women, peace and security.
KABUL - On a dusty football field about 700 yards from Khair Khana Maternity Hospital in northern Kabul, a team of Danish engineers, medical technicians and Afghan personnel have been working tirelessly since early August to erect an emergency mobile hospital, which will help...
Pages