KABUL, AFGHANISTAN -- Dr. Sima Samar, Afghanistan's interim Minister for Women's Affairs, is a woman in a hurry.
Two months into her six-month term of office, she has clear ideas about what her ministry can do for Afghan women, but still has no functioning office and few funds. "My fear," she says, "is that the six months will be over and I won't be able to do anything."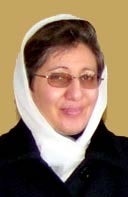 In an interview at the future site of her ministry, Dr. Samar outlined her priorities for the interim administration and its international supporters:
to ensure that Afghanistan's constitution and laws protect women's rights, and that women are fully represented in the loya jirga that will convene in June


to shape the new Afghan government;

to give women education and job opportunities to compensate for the years lost when the Taliban banned women from schooling and work; and
to provide reproductive health care for all Afghan women, particularly in rural areas.
"The woman's ministry is completely new in the history of our country," she notes. "We have no infrastructure. It has taken two months to get this building. But it was completely destroyed and needs repair."
The United Nations Population Fund (UNFPA) is organizing the reconstruction of Dr. Samar's offices, and will provide furniture and equipment. The Fund is also rebuilding an adjoining women's vocational school, which the Taliban destroyed. The office and school are due to open on 22 March.
"I want to do a lot of things for women," Dr. Samar says. Women in Afghanistan have suffered a lot of oppression and problems during these past 23 years of war." Carrying out her plans will require resources the ministry doesn't yet have. "With money we can make a lot of changes."
"One thing we need to do is to provide legal aid and advocate for women's rights. Maybe we can hire some lawyers who know the constitution and know the shariat. We should add some women's rights to the constitution.
"We have to lobby for the participation of women in the loya jirga. We have to find some mechanism so that a significant percentage of the participants are women."
"I would also like to give lot of training to women in human rights and gender awareness. The 1964 constitution is actually quite a good law, in terms of family law. The problem, to be honest, is that it is not really in place yet and most people—especially the women--don't know about it."
"The other part is to provide some real protection for women who are in danger. There is a lot of domestic violence. A lot of women cannot go to court. They should have the right to do so."
Education for girls and women is a second priority. "Through education we can change society. It's difficult but not impossible."
"We lost five years. We should have special programmes for women and girls who could not study. Those who were in 10th or 11th grade and could not continue their studies are already married now. We should offer courses in literacy, short-term management, teacher training and English."
"I would like to have lots of information in clinics for women on reproductive health, information about their own bodies. And we should provide a lot of family planning guidance, for free.
Afghanistan's many illiterate widows need vocational training, Dr. Samar stresses. "Give them skills they can live on. Train them so they can have their own small businesses, once the economic situation is more stable. The main thing is to provide a lot of job opportunities for women."
As for women in the government, "I keep lobbying for women' rights when they go back to work within different ministries. They lost five years; they should get a promotion for that."
Dr. Samar, a physician, is especially concerned about the abysmal state of health care for Afghan women. "One of our problems is the lack of professionally trained women. We have them in Kabul and other cities but not in rural areas."
"We need to train midwives. Let's identify educated women, train them for one or two years and send them out."
She knows this won't be easy. "Health workers who go to rural areas really sacrifice. Life there is very difficult, especially when one is alone. My experience tells me that what works is to train couples and send them together—train the man as a nurse and the woman as a midwife."
"If we had family planning activities in every district, it would be a great help." Making this happen will take time, she says, but "if we have money we can do it."
The minister is candid about the limited reach of her ministry. "We don't have representatives in the different provinces yet, but I keep receiving delegations of women from other provinces. I don't want to represent Kabul only. We should reach women everywhere, especially women living in rural areas."
"Afghan women are lucky," she adds. "We don't have problems like the men have among themselves."
Asked what message she would like to send to supporters abroad, she states, "I would tell women around the world that the Afghan women are part of the global female body. I hope they will not forget us, not allow us to be hurt and traumatized more than we already are. Women leaders who are powerful can do something to help us."
While Dr. Samar is clearly eager to get things done before her term of office runs out, she says, "I keep telling women that if I'm in this position or not, I'll continue my fight for women's rights. This is the whole objective of my life."
Contact Information:
William A. Ryan
Tel.: +66 2 288 2446
Email: ryanw@unfpa.org