Philippines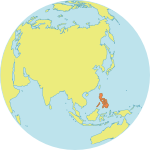 Maternal Mortality Ratio
121
Contraceptives prevalence rate
35
Population aged 10-24
28.7%
Youth secondary school enrollment
Related content
KABUL-- Essential medical equipment and supplies, valued at over $200,000, were delivered to two of Kabul's two principal maternity care facilities this week.
While tens of thousands of Afghan refugees are returning home each week, many more remain in refugee camps in Pakistan, dependent on continued assistance from UN and non-governmental agencies.
It is late afternoon and a pale February sun casts shafts of golden light through the shade trees surrounding a small square in the quiet village of Bibir Bazar, buried deep in the pancake-flat rice country of southern Bangladesh. The village looks no different than thousands of...
Pages