Philippines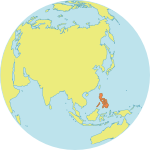 Maternal Mortality Ratio
121
Contraceptives prevalence rate
35
Population aged 10-24
28.7%
Youth secondary school enrollment
Related content
KABUL, AFGHANISTAN -- The small surgery in the Khair Khana 52-Beds Hospital smells of blood. (Actually it is more a clinic than a hospital.).
KABUL, AFGHANISTAN -- "When we asked for help in reconstructing an office for our ministry, UNFPA really acted quickly," says Dr. Sima Samar, Minster for Women's Affairs in Afghanistan's interim administration.
The Mongolia Representative of the United Nations Population Fund (UNFPA), Linda Demers, has received an honorary doctorate degree in Economic Science from the National University of Mongolia, the nation's oldest and most prestigious.
Pages