South Africa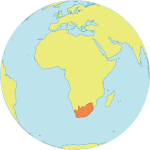 Maternal Mortality Ratio
138
Contraceptives prevalence rate
57
Population aged 10-24
27%
Youth secondary school enrollment
Related content
UNITED NATIONS, New York – Amid escalating conflict, some 30,000 women in South Sudan are at risk of dying in childbirth, according to estimates by UNFPA, and 200,000 pregnant women will be in need of urgent care before the end of the year.
UNITED NATIONS, New York – Gladys Kalibbala, a journalist in Uganda, knows what loss looks like. She has seen it hundreds of times, in the faces of children without homes and in the desperation of mothers searching for their children.
JUBA, South Sudan – Teresa Aruoth never knew she could use family planning to help space the births of her children. Married in her teenage years, she counts herself lucky to have remained healthy in a country where one in seven mothers dies in childbirth.
Pages