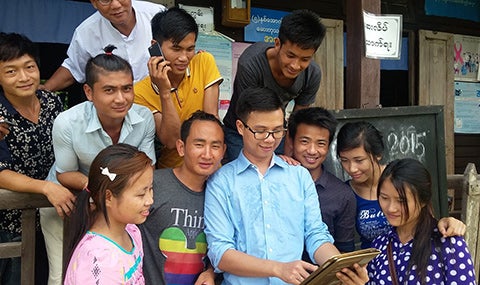 Why we innovate
As the world grows increasingly complex and interconnected, challenges are emerging with greater speed and magnitude. We need to be prepared to step boldly and responsively into this new era. At the same time, we must become more efficient and effective in ensuring all individuals can exercise their basic human rights – including those relating to their sexual and reproductive health.
As governments around the world craft the Sustainable Development Goals and targets for future development, we know that we cannot address these challenges alone. It will require new and innovative partnerships and approaches. UNFPA has embraced innovation to accelerate progress towards some of the most pressing issues we face, allowing us to continuously strive to deliver the best responses to the challenges at hand, and to remain adaptable, agile and responsive in a rapidly changing world.
Today, there are 1.8 billion young people in the world. Promoting innovation will also be key to reaching young people and empowering them to become future change-makers.
How we innovate
Through a new Innovation Fund, sponsored by the governments of Denmark and Finland, UNFPA is bringing together its most innovative initiatives under a common approach to seeking dynamic, new solutions to our delivery and operations.
To realize this vision, UNFPA promotes a culture of innovation throughout the organization, creating spaces where innovation can thrive and crowdsourcing ideas from staff around the world to launch innovative projects. These projects include a hackathon with young people in Uganda, a reality television show promoting gender equality in Georgia, a mentorship programme in Argentina, and many others.
Learn more by following us on Twitter @UNFPAInnovation for real-time updates, or contact us at innovation-hub@unfpa.org for more information. 
News & Updates on Innovation
Pages