Advancing Equity and Social Justice for People of African Descent
Advancing Equity and Social Justice for People of African Descent
The 2030 Agenda is based on the principles of universality. It recognizes that ending poverty must go hand-in-hand with strategies that build economic growth and address a range of social needs and rights, including health, education, social protection and employment. The agenda looks to ensure that no one is left behind and those furthest behind are reached first. People of African descent often confront structural racism and discrimination that lead to inequalities in access to services and to exercise their rights to land, housing, health, education, jobs, political participation and reparative justice.
Under the 2030 agenda principle of leaving no one behind, the priority actions of the Montevideo consensus, the Durban programme of action and the International Decade for People of African descent; continues to work to advance the cause of Afro-descendants, specifically of young people, women and girls. Harnessing years of thought-leadership, operational capacity, and experience in programming for the needs of the most marginalized, discriminated and disadvantaged; UNFPA will leverage the power of technology, its evidence generation expertise, Sexual and Reproductive Health programming and support for normative policy making to design innovative interventions to meet the needs of Afro-descendants. We will focus on the achievement of the three transformative results; as well as the fulfillment of their human rights, dignity, and realization of their full potential.
Learn more about the acceleration of advancement in the rights and inclusion of more than 200 million people that are Afro-descendants living in Latin America and the Caribbean:
Learn more about the actions and commitments of the United Nations to advance in equity and social justice for the people of African descent: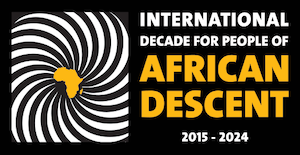 UNESCO's Slave Route Project: This project aims to contribute to a better understanding of the causes, forms of operation, stakes and consequences of slavery in the world, highlight the global transformations and cultural interactions that have resulted from this history, and contribute to a culture of peace by promoting reflection on inclusion, cultural pluralism, intercultural dialogue and the construction of new identities and citizenships.
Ark of Return: The Permanent Memorial to Honour the Victims of Slavery and the Transatlantic Slave Trade at the United Nations, continues to stand as a reminder that the legacies of slavery – including racism and inequality – still affect us all. During these times of physical isolation, the United Nations Remember Slavery Programme invites you to visit the Ark of Return virtually.
#FightRacism: Join the UN Human Rights Office in fighting racism. Every day, each and every one of us can stand up against racial prejudice and intolerant attitudes.