Kenya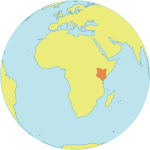 Maternal Mortality Ratio
342
Contraceptives prevalence rate
46
Population aged 10-24
33.4%
Youth secondary school enrollment
Related content
Views of smouldering wreckage are being steadily replaced by scenes of collective action.
Communities around the world are under siege – by the COVID-19 pandemic, violence, faltering economies, natural disasters and climate change.
Salwa, 35, has survived child marriage, three abusive husbands, crushing poverty and years of grinding conflict. But now she is building a new life for herself.
Pages