Kenya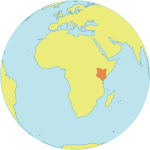 Maternal Mortality Ratio
342
Contraceptives prevalence rate
46
Population aged 10-24
33.4%
Youth secondary school enrollment
Related content
A masked aid worker helps an injured woman limp from a mobile first-aid clinic. Another aid worker, Hiba Kshour, carries hygiene supplies past the shattered husk of a car.
Regional Highlights The total number of COVID-19 positive cases have reached over 177,800 in all 23 countries in West and Central Africa, four months after Nigeria reported the first case. By the end of July, there were nearly 2,845 deaths, a mortality rate of about 1.6 per...
Regional Highlights The COVID-19 pandemic continues to take a constant upward trajectory in the region with all countries affected at different stages  of the pandemic. A total of 629,655 cases have been registered to date with 11,041 deaths (Case fatality rate of 1.75%) and...
Pages