Afghanistan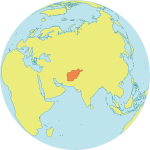 Maternal Mortality Ratio
638
Contraceptives prevalence rate
19
Population aged 10-24
35.2%
Related content
Kadiga, 17, was subjected to Female Genital Mutilation as a child. Like millions of girls in a similar situation, she will face countless risks to her health and untold pain as a result of decisions taken about her by others. But opinions in her community in Afar, Ethiopia, have...
A safe and healthy passage from adolescence into adulthood is the right of every child. Being healthy means not merely the absence of illness, but complete physical, mental and social well-being.
ASHGABAT/DUSHANBE – Aygul, 23, nearly lost her life when she developed complications during labour due to a heart condition. Fortunately, she was rushed from her home in rural Turkmenistan to the capital Ashgabat, where, under the care of a cardiologist, she successfully gave...
Pages