Afghanistan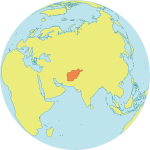 Maternal Mortality Ratio
638
Contraceptives prevalence rate
19
Population aged 10-24
35.2%
Related content
PRAGUE, Czech Republic – When Maryana Borisova was a teenager in Bulgaria, she seemed destined to follow the same life path as other girls in her traditional Roma community: She would get married and have her first child long before turning 18, then drop out of school and, with...
UNITED NATIONS, New York – On 11 July, as communities everywhere observe World Population Day, UNFPA calls for investments in support of the largest-ever generation of youth. Young people – those aged 10 to 24 – comprise roughly one quarter of the world's population, and their...
COLOMBO, Sri Lanka – Young people hold the keys to the future; unlocking their potential will lead to a better world for everyone. These facts are supported by mounting evidence from Sri Lanka, where UNFPA has worked with partners to support and empower youth.
Pages