Afghanistan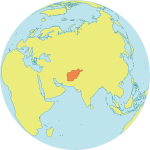 Maternal Mortality Ratio
638
Contraceptives prevalence rate
19
Population aged 10-24
35.2%
Related content
ISLAMABAD, Pakistan – Kiran Azeem Khan, 30, and her five children were forced to flee their home in Miran Shah, in Pakistan's North Waziristan Agency, after military operations commenced there in late June. They left without money or supplies. Ms. Khan was also pregnant – and...
MELBOURNE, Australia – At the International AIDS Conference 2014 today, UNFPA, the United Nations Population Fund, launched a youth networking zone called the coolibah, where, throughout the week, it will host a range of activities for and with young people, including a series...
MELBOURNE, Australia – Every hour, about 80 young people are newly infected with HIV, according to the recently released Gap Report by UNAIDS. The participation and leadership of young people will therefore be critical in bringing the global HIV epidemic to an end. Today, at the...
Pages