Afghanistan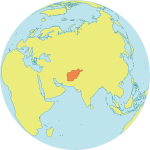 Maternal Mortality Ratio
638
Contraceptives prevalence rate
18
Population aged 10-24
35.3%
Youth secondary school enrollment
Related content
UNITED NATIONS, New York – "I was looking for a fulfilling, out-of-the-ordinary task... a motivating career where I could reach society at large and offer my expertise," said Catherine Njeri Makumi.
As we celebrate World Humanitarian Day, I salute those who respond to crises and work tirelessly to save people in times of deep distress and danger.
UNITED NATIONS, New York – United Nations Secretary-General Ban Ki-moon and global girls' rights icon Malala Yousafzai are the latest people to lend their support to UNFPA and the Global Poverty Project's #showyourselfie campaign.
Pages