Belgium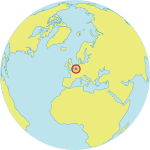 Maternal Mortality Ratio
5
Contraceptives prevalence rate
59
Population aged 10-24
17%
Youth secondary school enrollment
Related content
Winning the war in Afghanistan is not the same as keeping the peace. Here I would like to correct a common misconception, mostly produced by the media. Achieving peace and building communities and nations are considered in Islamic theology as the highest form of Jihad (Al-...
Attacking poverty directly, as a matter of human rights, to accelerate development and to reduce inequality within and among nations, has become an urgent global priority. World leaders have agreed on a variety of new initiatives, including the United Nations' Millennium...
UNFPA's focus in the area of population ageing is guided by the Programme of Action of the International Conference on Population and Development (ICPD), the recommendations of ICPD+5, the goals of the Millennium Declaration and the Madrid International Plan of Action on...
Pages