Belgium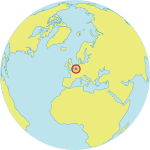 Maternal Mortality Ratio
5
Contraceptives prevalence rate
59
Population aged 10-24
17%
Youth secondary school enrollment
Related content
It gives me great pleasure to address the 35th session of the Commission on Population and Development. Let me begin by expressing my appreciation to Mr. Joseph Chamie and the Population Division for their hard work in organizing this meeting.

Mr....
Mr. Secretary-General, Chairman, Distinguished Delegates, Ladies and Gentlemen,
I am honoured to address you. We are gathered in Monterrey to try to resolve a paradox: the paradox of a world where wealth is being created faster than ever before, but inequalities are...
First of all I would like to thank you for inviting me to be a part of this Conference on Borderless Giving. I know you are all extremely busy people, and it is very heartening to know that you have the energy and commitment to discuss the importance of educating and...
Pages