Ethiopia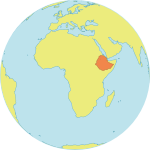 Maternal Mortality Ratio
401
Contraceptives prevalence rate
28
Population aged 10-24
33.6%
Youth secondary school enrollment
Related content
Today's 1.8 billion young people are a powerful force, individually and collectively. They are shaping social and economic realities, challenging norms and values and building the foundation of the world's future.
UNITED NATIONS, New York – As the deadline for achieving the Millennium Development Goals (MDGs) draws near, advocates are intensifying efforts to improve maternal and newborn survival. At a meeting of the United Nations Secretary-General's Millennium Development Goal Advocates...
JUBA, South Sudan – It is the middle of the night in a crowded displacement camp in Juba, South Sudan, and 25-year-old Marsa Nyaluak is losing blood fast. She is in labour and has been bleeding for two hours. She needs help. As her anxious husband looks on, a community midwife...
Pages