Ethiopia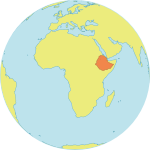 Maternal Mortality Ratio
401
Contraceptives prevalence rate
28
Population aged 10-24
33.6%
Youth secondary school enrollment
Related content
NAIROBI, Kenya – UNFPA, the United Nations Population Fund in Kenya has welcomed a call by United Nations Secretary-General Ban Ki-moon for a special focus to be placed on adolescent girls to reduce maternal death in the country.
KIGALI, Rwanda — At a meeting here of the United Nations Secretary-General's Millennium Development Goal (MDG) Advocates, key supporters of the health-related MDGs presented an Acceleration Roadmap to save an additional 140,000 women's and 250,000 newborns' lives and provide...
TIGRAY REGION, Ethiopia – Mitslal Giday has been working as a community mobilizer in the Tigray Region of northern Ethiopia for the past 20 years – and the last two have been some of the most exciting of her career, she says. Two years ago, Mrs. Mitslal, leader of a volunteer...
Pages