Ethiopia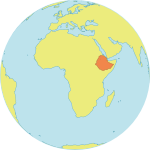 Maternal Mortality Ratio
401
Contraceptives prevalence rate
28
Population aged 10-24
33.6%
Youth secondary school enrollment
Related content
LILONGWE, Malawi – "I started having an affair with a grown man when I turned 11. I was in the final year of my primary education," recalls Mercy Jackson, a young girl from the Chikhwawa district in southern Malawi.
UNITED NATIONS, New York – On 11 July, as communities everywhere observe World Population Day, UNFPA calls for investments in support of the largest-ever generation of youth.
Today's 1.8 billion young people are a powerful force, individually and collectively. They are shaping social and economic realities, challenging norms and values and building the foundation of the world's future.
Pages