Ethiopia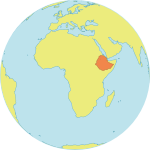 Maternal Mortality Ratio
401
Contraceptives prevalence rate
28
Population aged 10-24
33.6%
Youth secondary school enrollment
Related content
MELBOURNE, Australia – At the International AIDS Conference 2014 today, UNFPA, the United Nations Population Fund, launched a youth networking zone called the coolibah, where, throughout the week, it will host a range of activities for and with young people, including a series...
MELBOURNE, Australia – Every hour, about 80 young people are newly infected with HIV, according to the recently released Gap Report by UNAIDS. The participation and leadership of young people will therefore be critical in bringing the global HIV epidemic to an end. Today, at the...
NEW YORK, United States – Mama Hadija, now in her 60s, had grown accustomed to living in shame. Over 25 years ago, she suffered a prolonged, obstructed labour. The ordeal caused her to develop an obstetric fistula, a form of internal damage that results in incontinence, stigma...
Pages