Philippines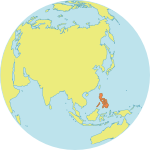 Maternal Mortality Ratio
121
Contraceptives prevalence rate
35
Population aged 10-24
28.7%
Youth secondary school enrollment
Related content
Afghan women from all walks of life must be part of designing the humanitarian response, and male leaders should encourage their inclusion, says relief worker Sippi Azerbaijani-Moghaddam of the Women's Commission, an international NGO which works with refugee women and girls.
Afghan women and girls in need of life-saving reproductive health assistance was the topic of a UNFPA News Conference Call held for international reporters on Monday 22 October, 2001.
Violence against women is, unfortunately, widespread in many parts of the world. Because they lack power, women suffer discrimination from early childhood and are too often the victims of domestic violence.
Pages