Violence against women is, unfortunately, widespread in many parts of the world. Because they lack power, women suffer discrimination from early childhood and are too often the victims of domestic violence. They are often refugees, victims of human trafficking and are more vulnerable to diseases such as HIV/AIDS.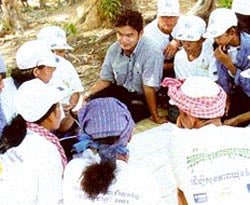 One of the most effective ways of addressing these problems is by raising awareness regarding women's equality among people of both sexes. Thus, most UNFPA Goodwill Ambassadors have committed themselves to campaigning against gender discrimination and to empowering women by sharing information and education.
In that regard, UNFPA's Goodwill Ambassador for Cambodia, Dr. Chea Samnang, works with youth, raising awareness about women's equality, reproductive health issues and HIV/AIDS, which is referred to as his country's "second killing fields". Recently, he took part in events to mark International Women's Day – 8 March 2001 – in Phnom Penh. Under the theme, "Building Together A Society Free Of Violence Against Women", he delivered a strong message on how men can help end gender violence. His audience included representatives of Government and non-governmental organizations (NGOs).
"Ending violence against women requires the participation of all", Dr. Samnang stressed, as he appealed to men to stop gender violence since it harmed not only women's health, but also the socio-economic well-being of families and the nation. He asked the Government and local authorities to take action and enforce laws that criminalize such violence. The key to ending gender discrimination, he emphasized, would be to empower women in the family and in society to grant them equality in decision-making.
A few weeks later, Dr. Samnang spent a day in a youth camp organized by a group of NGOs, as part of an EC/UNFPA Youth Reproductive Health Programme. The camp was located in Sihanoukville, near Cambodia's main harbour. He spoke about the prevention of HIV/AIDS, positive behaviour change and the need to use condoms to prevent HIV/AIDS. The Goodwill Ambassador asked the youth to share what they learned at the camp with counterparts in their respective communities. The camp enabled more 100 young people, aged 15-24, from 13 provinces to participate in educational sessions on life-skill orientation, STIs/HIV/AIDS prevention, child spacing, gender equality and children's rights.
Camp organizers arranged a karaoke session, which Dr. Samnang joined and sang traditional songs. He has starred in many educational television drama series on HIV/AIDS, women, labour and reproductive health. He is also a medical doctor by training.
Cambodia has the highest HIV infection rate in South-east Asia, according to the Joint United Nations Programme on HIV/AIDS (UNAIDS), with about 4 per cent of adults living with HIV/AIDS.