Philippines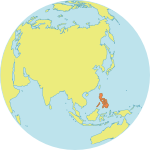 Maternal Mortality Ratio
121
Contraceptives prevalence rate
35
Population aged 10-24
28.7%
Youth secondary school enrollment
Related content
Early in February, the India office of UNFPA, the United Nations Population Fund, organized an event in Delhi to explore reproductive rights, including the rights of women.
From 1998 - 2002 the European Commission, UNFPA and European and local NGOs came together under the Initiative for Reproductive Health in Asia (RHI) to improve the RH of vulnerable populations in 7 countries in South and Southeast Asia. This publication presents the...
THAILAND, Bangkok—The United Nations Population Fund (UNFPA) today hailed a pledge by Asian and Pacific governments to give priority to population and reproductive health concerns in their work to reduce poverty.
Pages