Ethiopia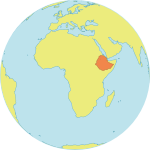 Maternal Mortality Ratio
401
Contraceptives prevalence rate
28
Population aged 10-24
33.6%
Youth secondary school enrollment
Related content
Thank you for inviting me to participate in this global consultation on child and adolescent health and development. This is a topic that I care about very deeply. I have two daughters who are now adults and I remember very well when they were adolescents and helping to...
Winning the war in Afghanistan is not the same as keeping the peace. Here I would like to correct a common misconception, mostly produced by the media. Achieving peace and building communities and nations are considered in Islamic theology as the highest form of Jihad (Al-...
Let me get right to the point. Ten years after the adoption of Agenda 21, the primary challenge remains: to ensure that access to resources for human development is in balance with human numbers; to end extreme poverty; and to advance equality between men and women.
...
Pages