Ethiopia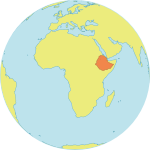 Maternal Mortality Ratio
401
Contraceptives prevalence rate
28
Population aged 10-24
33.6%
Youth secondary school enrollment
Related content
A report from the consultative meeting held in Bratislava, Slovakia, on 13-15 November 2001.
Previously known as AIDS Update, this is the 11th annual publication to provide information about action taken by UNFPA to prevent HIV infection.
The United Nations Population Fund joins the World Health Organization (WHO) in celebrating World Health Day, which falls on 7 April, and is devoted this year to Mental Health. The Day's slogan, "Stop exclusion, Dare to care", is a call to action to generate long-term...
Pages