Ethiopia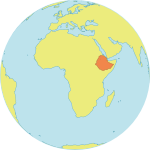 Maternal Mortality Ratio
401
Contraceptives prevalence rate
28
Population aged 10-24
33.6%
Youth secondary school enrollment
Related content
Good morning. I would like to thank the United Nations Development Fund for Women (UNIFEM) and the Microcredit Summit Campaign for inviting me to participate in today's panel discussion. I would also like to thank Susy Cheston and Lisa Kuhn for their report, entitled,...
Today on World Population Day, as we focus on "Reducing Poverty-Improving Reproductive Health," let us pledge once more to support women around the world and free them from poor health and illiteracy. When women are educated and healthy, their families, communities and...
We are gathered here today to talk about the contribution of human resource development to the process of social and economic development. In addition, I have a very simple message: No nation can be strong and prosperous unless its citizens are healthy and educated. And...
Pages