Ethiopia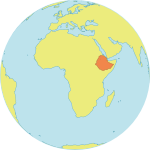 Maternal Mortality Ratio
401
Contraceptives prevalence rate
28
Population aged 10-24
33.6%
Youth secondary school enrollment
Related content
The United Nations Population Fund joins the World Health Organization (WHO) in celebrating World Health Day, which falls on 7 April, and is devoted this year to Mental Health. The Day's slogan, "Stop exclusion, Dare to care", is a call to action to generate long-term...
Thank you for inviting me to present myself as the new Executive Director of UNFPA through the Stopes Memorial Lecture. It is a great opportunity to be among such a distinguished audience and I look forward to a meaningful exchange of views and discussion.
We are...
Around the world, wars between and within nations continue to wreak havoc on the lives of millions of civilians caught up in the conflicts. Recent years have seen an alarming increase in ethnic strife in which civilians are actually singled out for attack. Women, who, along...
Pages