the Sudan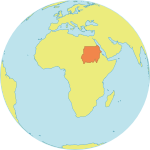 Maternal Mortality Ratio
295
Contraceptives prevalence rate
10
Population aged 10-24
32.6%
Youth secondary school enrollment
Related content
UNFPA has joined forces with the Arab States Youth Peer Education Network (Y-PEER) and performance arts centres across the region to lead peer education trainings that help raise awareness about adolescent sexual and reproductive health. Theatre and acting techniques have long...
RABAT, Morocco – Participants in the Rabat Forum adopted the UNFPA Regional Strategy to Prevent and Respond to Gender-Based Violence (GBV) in the Arab states Region for 2014-2017. They also recommended the strategy to serve as a roadmap for the fight against all forms of GBV and...
COPENHAGEN, Denmark — The Too Young to Wed photo exhibition travelled to Denmark this month where it will remain through the end of the year. An abridged version of the same exhibit will also begin touring areas where child marriage are prevalent, beginning in Morocco this month.
Pages